Eye clinic
AMOR is going to open an eye clinic at Nandumbo near Ulongwe in Machinga District in Malawi. For this, two trainees, Mr. Michael Kathumba and Mr Maphasto have completed and undergone training during last September with the help of donor Afflelou Foundation as well as the Malawi Ministry of Health. They've learned the following subjects :
Different eye anomalies and the ways to correct them.
How to use the main machines
How to screw the glasses and also to center, to adjust, to set, to polish the lenses
How to define the type of frame people need (according to the correction, the face etc)
How to repair a pair of glasses in case of damages.
A detached portable house is to be sent to the Ministry of Health. This will contain a refractometer (an instrument used to detect eye anomalies) as well as a machine to polish glasses. The donor will also send 2000 pairs of glasses for adults and 2000 pairs of glasses for children.

AMOR is also very honoured and happy to be supported by His Excellency the President of Malawi Pr. Peter Mutharika.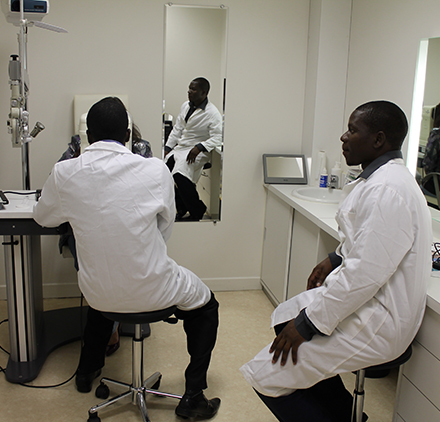 Michael and Mphatso, our two Malawian trained opticians